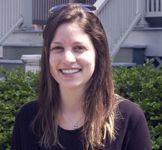 We would like to say goodbye to Ilana Polak, who recently left The Learning Web to continue her education and pursue a Master of Social Work. Ilana was our Community & Career Exploration & Apprenticeship Coordinator working with youth in the communities of the Town of Ithaca and Villages of Lansing and Cayuga Heights. During her short time at The Learning Web, she learned a great deal and impacted the lives of many young people.
Working with youth she learned that "youth appreciate a role model and structure, even if they might not realize it initially." Ilana relayed a few significant moments when she felt fulfilled as she worked with the Volunteer Community Service Project. She worked with the youth to "talk to them about real life things and put things into perspective for them." At the end of the program, she enjoyed seeing "how much [her participants] loved helping people" even though "they [had] never done anything like that before." Ilana's participants showed their appreciation through "thoughtful goodbyes, hugs and thank you letters" that helped Ilana feel "like [she] made an impact on their lives" by "meeting with them,  getting to know them," and "connecting with them."
While Ilana empowered her participants, she was also empowered through increased self-awareness and self-esteem. From her co-workers, Ilana heard that her positive outlook was helpful to her teammates. Ilana stated that The Learning Web was "the best place I could have asked for [with] the best people, and [it was] the perfect first job." She felt supported by the other staff members and the executive staff because "all the people that [she] worked with had a lot of confidence in [her] and didn't make [her] feel like a recent college graduate." This helped her to "take charge and [believe] she could do this." Ilana maintained methods of communication with parents, teachers, kids and mentors and connected with new apprenticeship sites and places to involve young people participating in the Volunteer Community Service Project. Ilana's experience at The Learning Web "solidified [her] decision to go back to school to get an MSW" because she "has more to learn."
Ilana, you will be missed, and we look forward to hearing where your journey takes you next. We admire your ability to create a safe but fun and dynamic space for your youth participants to learn and grow.  A parent of an apprentice said it best, "Ilana made a point to personally connect with [my child]," which "he enjoyed." Another parent stated, "Ilana has played a very important and active role in helping create this opportunity for my child" [because] "she took the time and energy to coordinate with the Cornell mentor and negotiate for the best time possible for the child." You were a joy to have in all of our lives.