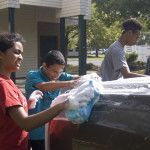 Yay! The community service volunteer program completed their summer projects. At the conclusion of each summer, the two groups collectively conceive a service project.
Inspired by their fondness for animals, the Monday and Wednesday group decided to donate to the SPCA.  When choosing a project, they knew they wanted to be active: they have a lot of good energy.  They selected a car wash for this reason. They were really invested in the project;  some participants went home and made additional flyers on their own time . The funds from the bake sale combined with donations and car wash money totaled $105.
With maturity and awareness, the Tuesday and Thursday were thankful for having good health and opportunities that others don't. They decided to collect books for children receiving care at the Upstate Golisano Children's Hospital in Syracuse. This group was very creative with their book hubs; it was fun to see the different decorations and embellishments they added to make them more appealing to the eye. In the end, they collected 95 books for the children.
Their projects show some of what they have learned about the community in which they are volunteering and what they have learned about themselves. Enthusiastic and generous, the two groups selected activities based on the spirit of each group. Both projects were a success.