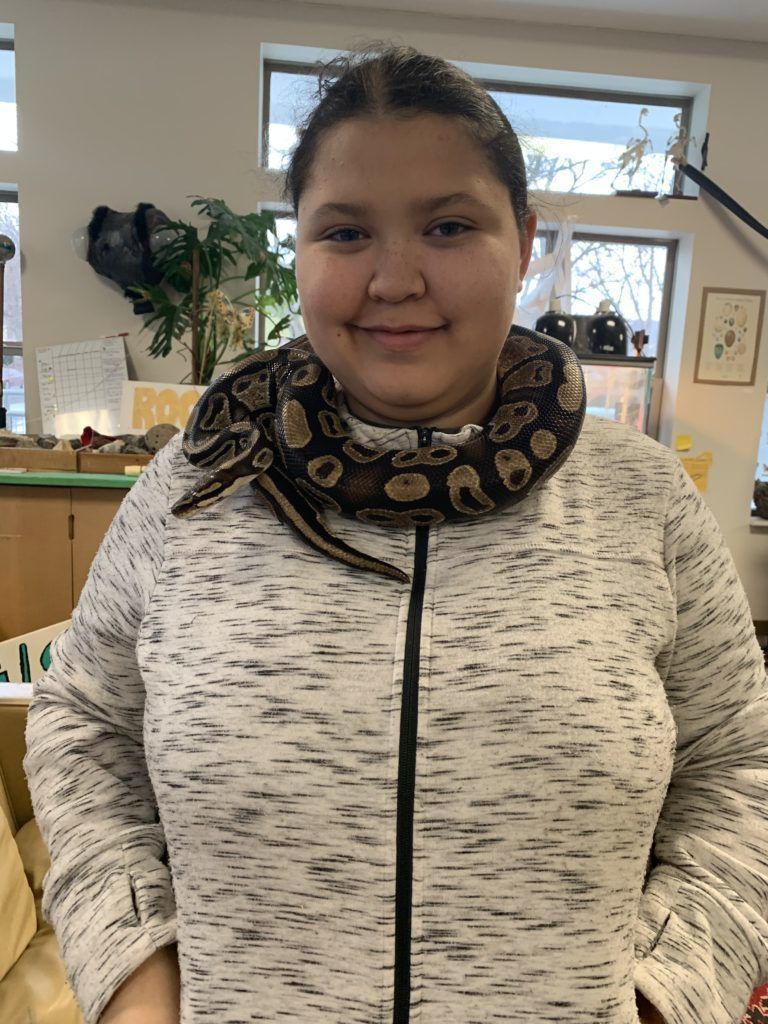 17 year old Meika Johnson, pictured left, with Patch, the ball python, is literally wrapped up in her apprenticeship at the Free Science Workshop (FSW).
Passionate about biology, specifically animal-focused biology, Meika started an apprenticeship with co-mentors Anna Wilson and Claire Fox at FSW, located in the Ithaca Neighborhood Housing Services Hancock Street apartments, where Meika bonded with Patch, their ball python. FSW, founded in 2017, is an Ithaca non-profit providing a supportive, community-based space for low-income and under-represented youth to explore their world, and expand their capabilities, through science and creativity.
FSW's mission and Meika's apprenticeship goals were a match- Meika wanted to learn about the biology of all the animals, how to safely care for them, and how to share her knowledge of animals with younger participants. That's where she met Patch, along with pigeons, snakes, tarantulas, bearded dragons, mice, and all kinds of insects.
Claire admires Meika's skill and dedication. "Meika worked one-on-one with the kids to develop their knowledge and skills in how to care for animals. She took initiative- she really loved our ball python and she took initiative to create a whole new enclosure and a lot of kids around the workshop contributed to it- there was this grand vision for this vivarium [a terrarium for snakes!] that would be made out of a reused cabinet. She did all kinds of research about what plants would thrive in the environment and she's really excited to work on that component."
Meika's skills have landed her a paid position as a student intern at FSW. She is committed to a career in veterinary care. Her connection with Patch and FSW has brought her many steps closer to her goal.