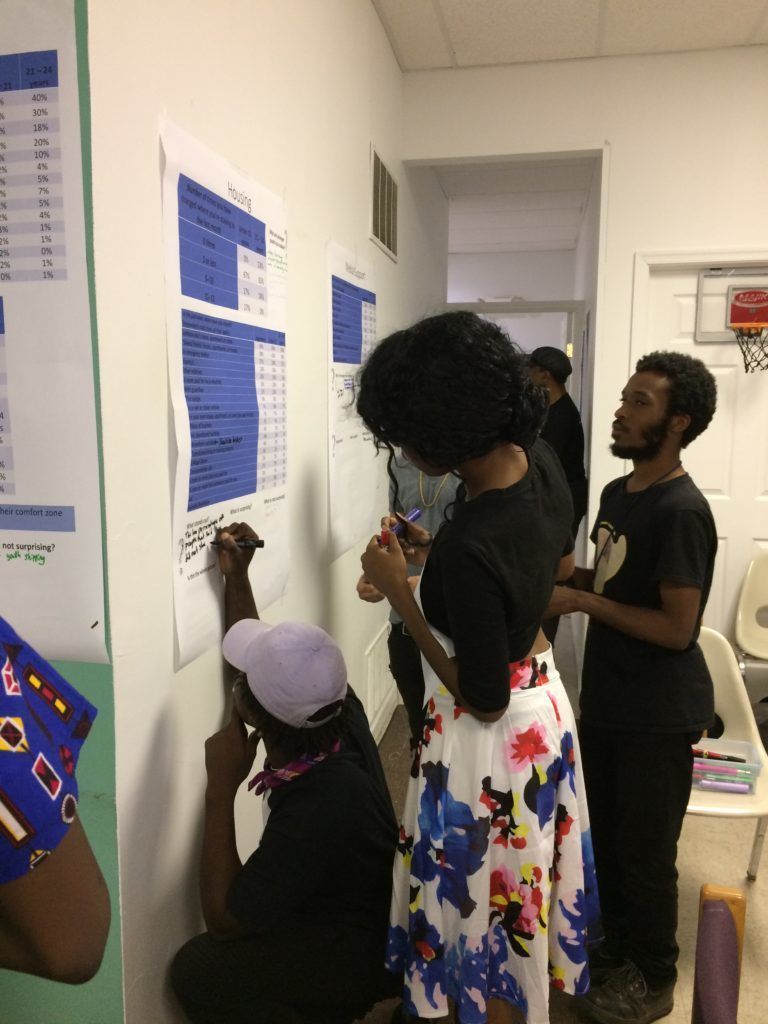 The 2019 Independent Living Survey (ILS5) is an innovative participatory research model that engages formerly homeless Learning Web Youth Outreach Program participants as research assistants (pictured above reviewing data) to determine the nature and scope of youth homelessness in Tompkins County.  Administered every 4 years since 2004, the ILS provides critical information leading to increased community awareness and system level change.
Housing— volatile & dangerous
On average, respondents reported that they were 14 years old when things at home began to get rough and that they were 9 years old when they first needed to find other places to stay because they couldn't or, didn't want to go home.
Survey respondents reported staying in 2 different places (in friends' houses, apartments, or rooms) in the past week with a range from 1 to 8 places.
In their current living situation, the majority (52%) of respondents only felt safe some of the time. While 38% felt safe all of the time and 7% felt safe none of the time.
Unemployed & Underemployed
66% of respondents were unemployed and of those who had jobs, only 10% worked 30-40 hours per week; 14% working 20-30 hours per week; 6% working 10-20 hours per week, and 4% working less than 10 hours per week.
40% of unemployed youth had been looking for work for over a month and 20% had been searching for over 6 months.
To view the full ILS5 report, click here