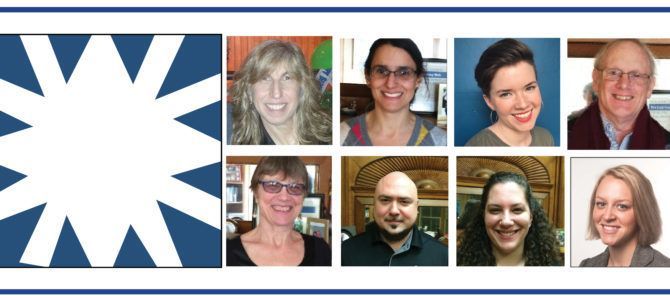 Meet Our Board of Directors!!
Though the snacks served at our Board meetings are legendary, it is more than snacks that attract talented local folks to serve on our agency's Board.  We so value our Boards' impact on The Learning Web that we want to take time to highlight who they are and why they work on the LW's behalf.  From reading budgets to gathering auctions items for our Music Spectacular to volunteering to hold mock interviews for youth participants, these folks keep on contributing.  Our continuing thanks goes out to:
Kristine M. DeLuca – BOD President

Kris's deep background in career and leadership development is a perfect fit with The Learning Web. Having lived in the Ithaca community for the past 40 years and spending the majority of her career working with young people, Kris brings a perspective and skill set that is very valuable to the agency. Her reasons for joining the BOD illustrate why she is such a great fit for the BOD: "I have spent the majority of my professional life as an educator. In whatever capacity I've had the pleasure of working with young people; the overall objective has been to assist them in discovering who they are and how they'd like to impact the world. Serving on The Learning Web Board provides yet another way of assisting young people in finding their place in the world. The Learning Web provides a rich array of programs for the youth of our community that are designed to meet them where they are, yet are prepared to take them where they want to go! I am so excited to be able to support them in their mission. I believed in experiential learning. Life experience is the best educator!" Kris's current role as director of The Cornell Commitment, a program dedicated to facilitating students' application of service, leadership, research, and academic excellence to various communities, provides a great resource for the agency and the youth we serve.

Michelle Cannon – BOD Vice President

Michelle learned about The Learning Web when her daughter became a Learning Web apprentice with gifted gardener, Lisa Miller, at Hospicare's beautiful gardens. After seeing the positive experience her daughter enjoyed through our agency, Michelle said yes to a request to join the Board in the fall of 2015. As Michelle remarked, "My daughter had greatly benefitted from the mentoring program and I am very impressed with the work The Learning Web does to acclimate youth into the workplace through skill development and life skills. This group is wonderful, dedicated, and fun to be around, and I am thrilled to be a part of it." Michelle is also a career exploration host for The Web. When working as a Food Scientist at Covance Food Solutions Michelle toured youth who are interested in careers in food science around the labs at Covance and set up chats with her colleagues so that the youth got a good idea what the work involves and what path led each colleague to their career. She is currently a Manager, Sales Development for Ingridion, Inc.

Liz Gipson – BOD Treasurer

After hearing friends and colleagues talk about the great work The Learning Web does, Liz says she was honored to be invited to join. "I've always believed in uplifting young people, and the Learning Web's commitment centering the youth they work with in every decision the organization makes was a big reason I decided to join. The Learning Web truly lives its values!"

Liz brings a wealth of skills and resources to her Board work. Liz currently works at the Northeast ADA Center, housed at the ILR School of Cornell University, working on disability rights. Prior to that, she worked as Director of Public Affairs at Ithaca's own Planned Parenthood of the Southern Finger Lakes and Program Assistant at the NYC-based National Institute of Reproductive Health. She also volunteers her time as a Case Manager for the New York Abortion Access Fund and a Canine Companion at the local SPCA. Liz is passionate about public health and sees the vital work the Learning Web does as an important means of connecting young people to resources that will help them grow into healthy adults. "I'm excited to stay involved with the great youth-centered community-building that The Learning Web is a part of and to advocate for the many services the Learning Web offers our community." And we are excited to have Liz join our team!

Jon Hilton – BOD Secretary

Jon is the most veteran member of our Board, having joined the BOD in 1991! Jon was involved in The LW as a mentor and did a fabulous job with his apprentices—going above and beyond and assisting the young person in applying and being accepted to college (the first in her family to attend college). This caliber of mentor was not to be underutilized! We tapped Jon for the Board and the rest is history. Why the long tenure? Jon explained— "I joined the Board in 1991 because I was interested in providing learning opportunities to youth in order to help them make decisions and develop life skills. I like that The Web helps provide an avenue to guide youth. Youth Outreach works with at-risk youth by providing a way up and out of their current status." Jon has given us unflagging service as our Board Secretary and is our Board historian. He also generously donates his time and his band's time (the popular Radio London) at our annual Music Spectacular and has been instrumental in moving the agency forward over the years. Jon currently owns a recording and audio production studio (Hiltronex Sound), and teaches at Ithaca College in Media Arts Sciences and Studies (communications), and plays in a couple of rock bands (Radio London) and jazz bands.

Barbara Logan – BOD Director

We've known Barbara for many years as she has worked for agencies that collaborated with staff at our Youth Outreach Program and has served on our Board. Barbara was and is a champion for young people who face enormous barriers to making a positive transition towards young adulthood. Barbara currently works at the TST BOCES as a Guidance Counselor and continues to refer youth to our Community & Career Exploration Program.

On joining the Board, Barbara said, "I've worked with a variety of youth in different settings, and The Web has always been there. I've stayed on the Board because the people who are part of it are strong youth advocates. They are both hard-working and fun!" Barbara has brought her great energy and creativity to the BOD and an unflagging loyalty.

Adam Hughes- BOD Director

"Youth Development work is a passion of mine and The Learning Web is providing incredibly valuable services to the youth of Tompkins County. Being a part of the Board of the Learning Web gives me the opportunity to be a part of important youth development work happening in our community." Adam's passion for youth development brought him to The Learning Web at a time when the agency's Board of Directors was seeking new members—a wonderful match was made!

Adam brings extensive experience both working in the non-profit sector and with young people. Adam said, "[My] involvement in various youth development programs over the last 13 years ranged from being an HIV Prevention Outreach liaison to various youth programs in western Massachusetts to managing a comprehensive LGBT youth development program in Boston, providing homelessness case management, job training, and other health and social services." Adam shared his goal in joining the Learning Web's board, "One goal I have in being on the BOD is to assist in strategizing ideas to ensure organizational sustainability within the opportunities and challenges that exist for nonprofits today and in the coming years."

Adam just began working with the State Administration of the Cornell Cooperative Extension System. We are sure that the skills and experience he brings to us will only be enhanced by his newest endeavor with Cornell Cooperative Extension!

Emma Miller- BOD Director

Emma brings to our Board of Directors a unique and relevant perspective on career preparation. "My winding educational and career paths taught me firsthand the essential value of career exploration and experiential education, and I wish I had an organization like The Learning Web to help guide me through that journey!" Emma Miller made this statement when asked about how she found her career path. "I worked a number of jobs and explored a variety of educational avenues before settling on the Medical Assisting program at OCM BOCES while also volunteering at Planned Parenthood of the Southern Finger Lakes. Upon graduating, I was lucky enough to start working at Ithaca's Planned Parenthood as a Medical Assistant and counselor and have been there now for two years."

Asked how she heard about The Learning Web, Emma replied, "I learned of The Learning Web through friends and colleagues and wanted to support its mission in any way I could. My work at Planned Parenthood focuses a great deal on young people, and I know how important a multifaceted, empowering network of support is for them (and all people); The Learning Web embraces that need wholeheartedly and without judgement. I feel lucky to have the opportunity to support The Learning Web staff and clients so that the organization can continue to empower young people and our community." We feel lucky to have Emma join our team!

Molly Israel- BOD Director

Molly Israel is the Marketing Strategist for Cornell University's Center for Regional Economic Advancement. She plans and implements marketing communications plans to promote start-ups and business growth throughout the Southern Tier.

Prior to joining Cornell University, Molly worked at Ithaca College for seven years, most recently as the Executive Director of Marketing. Before joining the ranks within higher education, she got a taste for start-ups as the Director of Marketing and Sales Operations for a fast-growing digital marketing agency in Washington, D.C.

Molly holds a degree in communications from Ithaca College and is constantly seeking better ways to balance mom-life with her two small children.

She chose to serve on the board of the Learning Web because she strongly believes in supporting all youth through mentorship, positive guidance, and developmental opportunities. We are so excited that Molly has chosen to bring expertise in marketing and communications to the Learning Web family!
We hesitate to publish this news story knowing that other agencies will want to steal these amazing folks!  We realize that the quality of the people we have supporting our agency and the quality of their work on the Board are of the highest caliber.  While we hope their tenure is long, if you are impatient to get those fabulous snacks, let us know and we will add you to our wait list. ☺